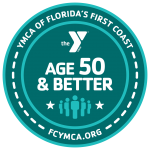 At the Y, Age 50 & Better members experience a strong sense of belonging through a network of friends, and discover purpose through group exercise classes, educational series and cause driven volunteer programs. Increase self-confidence and sense of achievement while building relationships, and celebrate the successes and milestones of others.
Register Online for 50 & Better Programs
First Coast Y 50 & Better  
Member Testimonials
SilverSneakers
No Cost Y Membership
If you're a group retiree, or part of a Medicare Advantage or Medicare Supplement Health plan, you may already have a SilverSneakers membership. This active adult wellness program is offered by many Medicare plans across the nation. If you are eligible for SilverSneakers you can use any YMCA at no cost, and take advantage of all the services a standard membership covers, not just SilverSneakers classes!
Check your eligibility at https://www.silversneakers.com/join-in/.
Renew Active
No Cost Y Membership
Renew Active is the new name for Optum Fitness Advantage. Renew Active provides eligible members with access to any YMCA at no cost. Plan holders of eligible Medicare Advantage Plans insured by United Healthcare Insurance can use the Renew Active program. Eligible members can use all the services that are part of a standard Y membership. To find out if you're eligible, call your health plan's Customer Service Toll-Free number. The telephone number is on the back of your member ID card. To learn more, visit https://www.myrenewactive.com 
Age 50 & Better Rewards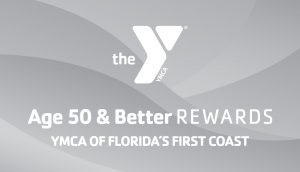 Age 50 & Better Members who use ANY First Coast Y 10 times a month get rewarded for coming to the Y! Use the Age 50 & Better Rewards Card to record your visits. After 10 visits, you'll be entered into a drawing for a monthly prize. Come to the Y 120 times a year and enter the annual grand prize drawing!
Healthy Aging Programs
BrainFit
Presented by Arbor Terrace Dementia & Memory Care
Learn life-long lessons for brain healthy living from experts in memory, dementia and Alzheimer's. BrainFit is FREE. Y membership not required. Lunch included.  To learn more, visit our BrainFit page https://fcymca.org/brainfit/
Lifestyle Cooking Series
Presented by Aetna
Join chefs from Chuy's Tex-Mex, Publix Aprons Cooking School and First Watch Cafe each month for a healthy cooking demonstration. FREE event. Y membership not required. Samples included. To learn more, visit our Lifestyle Cooking Series page, https://fcymca.org/lifestyle-cooking-series/
Community Partners
AARP
Alzheimer's Association
Aetna/Coventry
Arbor Terrace Dementia and Memory Care
Baptist Healthy Living Centers
Baptist AgeWell Institute
Brooks Rehabilitation
CarePlus
Chuy's Tex-Mex
Community Hospice & Palliative Care
Dedicated Senior Medical Centers
Elder Source
First Watch Cafe
Florida Blue
Jacksonville Jaguars
Publix Aprons Cooking School
To learn how you can become a Healthy Aging Program Sponsor please contact Claire Watson-Irving, Director of Healthy Living Innovation:  Healthy Aging at 904.265.1795 or email cwatson-irving@fcymca,org
Branch Healthy Aging Coordinators
Community Resources
Transportation
Jacksonville Transportation Authority
Seniors age 60 and older ride JTA free upon presentation of a STAR Card or government issued picture ID with birth date.  In St. Johns County, we recommend the Sunshine Bus.
Health Insurance
Shine
SHINE is a Free program offered by the Department of Elder Affairs in partnership with ElderSource. Specially-trained volunteers can assist you with your Medicare, Medicaid and health insurance questions by providing one-on-one counseling and information.
Caregiver
Caregiver Coalition
It is a fact that caregiving will impact everyone. Your role may be short-term, long-term or indefinite. Whatever your circumstances, your caregiving journey may be filled with uncertainty. The Caregiver Coalition provides resources and support to help you during this time.
Discounts!
Visit Operation $40K for a listing of national companies that provide discounts for those age 50 and better.
Register Online for 50 & Better Programs
First Coast Y 50 & Better