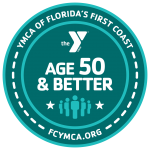 At the Y, Age 50 & Better members experience a strong sense of belonging through a network of friends, and discover purpose through group exercise classes, educational series and cause driven volunteer programs. Increase self-confidence and sense of achievement while building relationships, and celebrate the successes and milestones of others.
Live exercise classes geared towards Age 50 & Better are available Monday through Friday via the First Coast YMCA's Age 50 & Better Facebook group. Classes include Silver Sneakers, Pilates, Chair Yoga and Dance. For a class schedule and to participate in class, just ask to join the Y Age 50 & Better by clicking the link below. Eligible members who complete a virtual check-in get Y rewards!
First Coast Y 50 & Better  
Register Online for 50 & Better Programs
Monthly Newsletter Downloads
Member Testimonials
SilverSneakers
No Cost Y Membership
If you're a group retiree, or part of a Medicare Advantage or Medicare Supplement Health plan, you may already have a SilverSneakers membership. This active adult wellness program is offered by many Medicare plans across the nation. If you are eligible for SilverSneakers you can use any YMCA at no cost, and take advantage of all the services a standard membership covers, not just SilverSneakers classes!
Check your eligibility at https://www.silversneakers.com/join-in/.
---
Renew Active
No Cost Y Membership
Renew Active provides eligible members with access to any YMCA at no cost. Plan holders of eligible Medicare Advantage Plans and Supplement Plans insured by United Healthcare Insurance can use the Renew Active program. Eligible members can use all the services that are part of a standard Y membership. To find out if you're eligible, call your health plan's Customer Service Toll-Free number. The telephone number is on the back of your member ID card.
To learn more, visit https://www.myrenewactive.com 
Age 50 & Better Rewards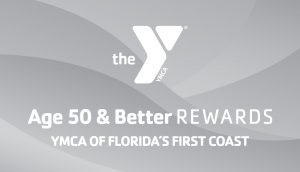 Age 50 & Better Members who visit ANY First Coast Y on 10 separate days in a calendar month are eligible to be entered into a monthly prize drawing! Use the Age 50 & Better Rewards Card to record your visits. The card is available at the Y Welcome Center.
---
HEALTHY AGING PROGRAMS
BrainFit Series
Free but registration required. Members only at this time.
Presented by Millennium Physician Group
Growing evidence indicates people can reduce their risk of cognitive decline by adopting a healthier lifestyle. Join experts from Millennium Physician Group for educational and interactive seminars that teach 12 Ways to BrainFit.  Register at the Y Welcome Center, call 904.265.1775 or register online.
Register Online for 50 & Better Programs
Community Partners
AARP
Aetna
Alzheimer's Association
Baptist Healthy Living Centers
Baptist AgeWell Institute
Brooks Rehabilitation
CarePlus
Chuy's Tex-Mex Restaurant (YMCA members get 10% off a meal at Chuy's Town Center location when you wear your Y shirt to the restaurant, or show your YMCA key fob).
Community Hospice & Palliative Care
Dedicated Senior Medical Center
Elder Source
Florida Blue
Humana
Jacksonville Jaguars
Millennium Physician Group
Publix Aprons Cooking School
To learn how you can become a Healthy Aging Program Sponsor please contact Jennifer Negron, Healthy Aging Manager by emailing JNegron@fcymca.org.
Branch Healthy Aging Coordinators
Community Resources
Transportation
Jacksonville Transportation Authority
Seniors age 60 and older ride JTA free upon presentation of a STAR Card or government issued picture ID with birth date.  In St. Johns County, we recommend the Sunshine Bus.
Health Insurance
Shine
SHINE is a FREE program offered by the Department of Elder Affairs in partnership with ElderSource. Specially-trained volunteers can assist you with your Medicare, Medicaid and health insurance questions by providing one-on-one counseling and information.
Register Online for 50 & Better Programs
First Coast Y 50 & Better