The Y is the leading nonprofit committed to strengthening community by connecting all people to their potential, purpose and each other. 
---
Working locally since 1908, we focus on empowering young people, improving health and well-being, and inspiring action in and across communities.
Our rich history began when George Williams founded the YMCA in 1844. Here's a snapshot of our many successes over the decades on behalf of the individuals and communities we are privileged to serve.
Watch: History of YMCA Membership
Service to the First Coast
Notable Moments in Our History on the First Coast
1870
Records show the first YMCA in Jacksonville originated in 1870 with J.M. Baker as president. The history of that organization was lost after 1876 and by 1900, there was no longer a Y in Jacksonville.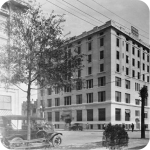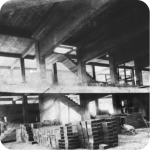 1908
On February 20, 1908, YUSA approves charter for the YMCA of Florida's First Coast. A seven-story YMCA opens at the corner of Laura and Duval Streets with a membership of 12 men. Designed by famed architect Henry John Klutho, the Y was framed entirely of reinforced concrete and eventually featured an indoor running track suspended over the gymnasium by cantilevered concrete beams.
1909
1941
Jacksonville YMCA reopens after its suspension during the Great Depression
1948
1955
Opening of YMCA in Riverside (later to be renamed the Claude J. Yates Family YMCA)
Construction begins on swimming pool at YMCA in Riverside
1957
Membership Drive exceeds goal with 1,358 members
Dedication of Camp Immokalee Dining Hall, a gift from the Meninak Club of Jacksonville
YMCA Day Camp Opens
1958
YMCA launches youth aquatics program
YMCA expands and provides new facilities in Arlington and St. Johns County
1959
Jacksonville Mayor Haydon Burns received an honorary membership to the YMCA
YMCA Camp receives $10,000 from Jacksonville Rotary Club to build Camp Immokalee Infirmary
YMCA, with the Red Cross, begin teaching lifesaving classes
1962
YMCA is 100 years old in America
1964
Delta Hi-Y Founds Library as a service project
1965
Drown-proofing program begins at the YMCA
YMCA begins new membership campaign that strengthens physical, moral and spiritual values
1966
YMCA offers first physical fitness tests to assess members exercise needs
1968
YMCA desegregates facilities (Franklin D. Wilson initiated the movement)
1969
Opening of new "Executive Health Club" with sauna and steam room at YMCA Riverside YMCA
1971
YMCA permits women to join as members (Mrs. Sutton, secretary to the President, was the first female member)
1974
YMCA in Riverside opens a new running track
1987
First presence in Nassau County with after-school, day camp and youth soccer; operations were run out of City Recreation Department building
1988
The Clay County YMCA (Dye Clay Family YMCA) opens on Moody Road in Orange Park; later renamed with YMCA President Bob Dye retired after 26 years of service to our association
YMCA of Florida's First Coast merged with the existing St. Augustine YMCA making it a part of the Association.
1995
2000
Broke ground on the Dye Clay Family YMCA DayStar building
2004
2008
Brooks Family YMCA opens after 60,000 square foot building donated by Brooks Rehabilitation
2009
2016
WATCH: Building a Better Us

2017
2019
2020
2020
Read more about Our Impact in Northeast Florida.