At the Y, we know teens can accomplish anything they set their minds to. Providing programs to develop teens mentally, physically and spiritually is our mission.
Today, we are watching youth development in action, with young people finding their voices, activating their beliefs and joining — even driving — the democratic process. More than leaders, they have become changemakers.
Our Teen Leaders Club is our teen program umbrella that encompasses our signature clubs such as Youth in Government (YIG), Achievers and Future Leaders. The purpose of our programs is to support the positive cognitive, physical, and social-emotional growth of teens from cradle to career by providing programs that adhere to the character development model of empathy, relationship building, personal development, responsibility and emotion management.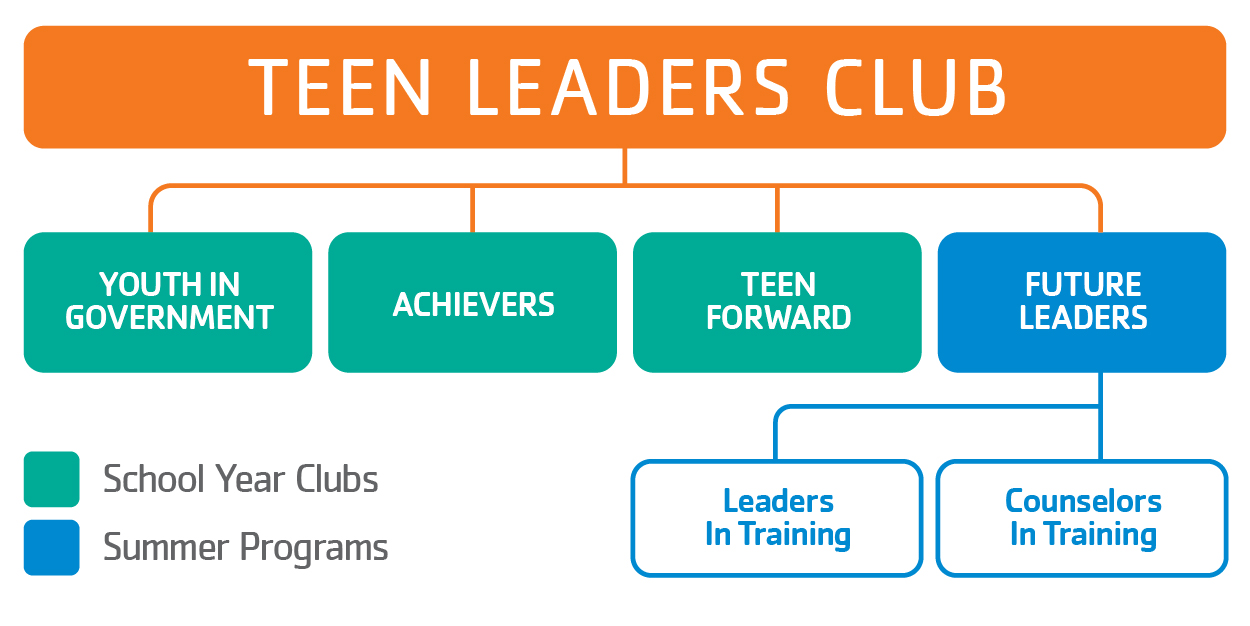 School Year Clubs
Teen Leaders Club
All participants of Youth in Government, Future Leaders, and Achievers are members of the Teen Leaders Club.
Jr. Leaders Club
Jr. Leaders Club consists of middle school students in Jr. Youth in Government.
Teen Leaders Executive Board
Each club has an executive office that consists of a President, Vice President, Secretary, Treasurer, and a President of Public Relations, these officers combined will make up the Executive Board of our Leaders Clubs and meet regularly to plan association-wide service projects, social events, and fundraising activities.
Youth in Government (YIG)
YIG is designed to familiarize students with the process, organization and roles involved with our state's governmental process. Local chapters work together on debate practices, service-learning projects, fundraising efforts and State Assembly preparation. Students choose an area of focus and, through this lens, delegates are given the means to learn about their specific role in the context of state government.
Achievers
The purpose of Achievers club is to equip students with experiences and resources that help set them on an intentional road to college. Teens have meetings at the YMCA, local high school, regional and local colleges, and meet regularly with college counselors, advisors and staff in order to make them more comfortable with the idea of attending college.
Teen Forward
Teen Forward is an afterschool program for pre-teens and teens hosted at our Johnson YMCA. The program focus on our youth's future by exposing them to new experiences, introducing them to career-focused professionals, and presenting them with options beyond high school. With social responsibility, healthy living, and youth development being our driving forces, teens have an opportunity to give back to the community in which they live.
Summer Programs
Future Leaders
Future Leaders consists of two summer programs, Leaders in Training and Counselors in Training.
Leaders in Training

Leaders in Training is a summer program designed to offer teens a variety of experiences and opportunities related to leadership, service learning, and social and club development. Teens receive hands-on training, career exploration and professional development that serves as the foundation of our Y teen clubs. During this training, teens will learn about our signature clubs and the responsibilities of a student officer. With the support of the staff and Senior Program Director, teens have the opportunity to join or start a club at their YMCA. (Requirements: Rising 9th graders – 12th grade)
L.I.T. Application (Apply online) L.I.T. Application (pdf)
Counselors in Training

For 6 weeks out of the summer, teens will train to become a camp counselor, then shadow different camp sites and programs to put their learnings into practice. (Requirements: Age 15)
Certifications
Teens will earn training hours in YMCA servant leadership, departmental knowledge, professional certifications, mentorship, and data-driven enrichment while directing them through a volunteer-to-career pipeline. Teens possessing this certification will be equipped to be YMCA Leaders with the passion and resources that would traditionally take years to develop, making them ideal frontline leaders.
Students will obtain a certification in Cardiopulmonary Resuscitation during the summer trainings.
Positions & Responsibilities
Note: As program develops and grows committees and positions can be assigned.
For more information:
Contact Shermayne Reynolds
SENIOR PROGRAM DIRECTOR, TSIC CLAY COUNTY
SReynolds@fcymca.org
Your support makes our community better for ALL.