Drowning Prevention
Teaching children how to be safe around water is not a luxury; it is a necessity. The YMCA's Safety Around Water program can help you make sure children learn essential water safety skills, which can open up a world of possibilities for them to satisfy their curiosity safely.
What Is Safety Around Water (SAW)?
SAW is composed of eight 30-minute sessions to reduce the risk of drowning by giving children confidence in and around water. The program is geared for unintended entries into the water and safety. Our goal is that if a child falls in, they can swim, float swim, tread, and exit the water. The levels build on skill sequences to enable a child to help save themselves or tread/float long enough for help to arrive.
A typical Safety Around Water session includes:
Exercises to help kids adjust to being in water
Instruction in "Jump, Push, Turn, Grab" and "Swim, Float, Swim," two skill sets kids can use if they unexpectedly find themselves in the water
Specific safety topics like what to do if you see someone in the water who needs help
Fun activities that reinforce skills
Thanks to generous community grants and donations, we are able to offer financial assistance for this program.
For more information, or to find out if your child is eligible, contact your neighborhood Y.
According to the Florida Department of Health, Florida loses more children under age five to drowning that any other state.
You can help us prevent drowning! Our goal is to provide Safety Around Water lessons to 5,000 at-risk children on the First Coast every year – regardless of their family's ability to pay.
Please consider making a donation to the Y's Safety Around Water program:
$60 to sponsor one child
$600 to sponsor 10 children
$1,200 to sponsor an entire classroom
---
PARENTS: KEEP YOUR CHILDREN SAFE
Drowning can happen nearly anywhere with standing water. But, as a parent or caregiver, you can't keep your children sidelined. You need to equip them with the tools they need to be confident in and around water so they don't lose out on the health benefits of exercise, the opportunities to bond with family and friends and the sense of accomplishment when they learn new skills. The Y encourages parents to take an active role in their child's safety by ensuring they learn how to swim and by practicing these safety tips when in and around the water: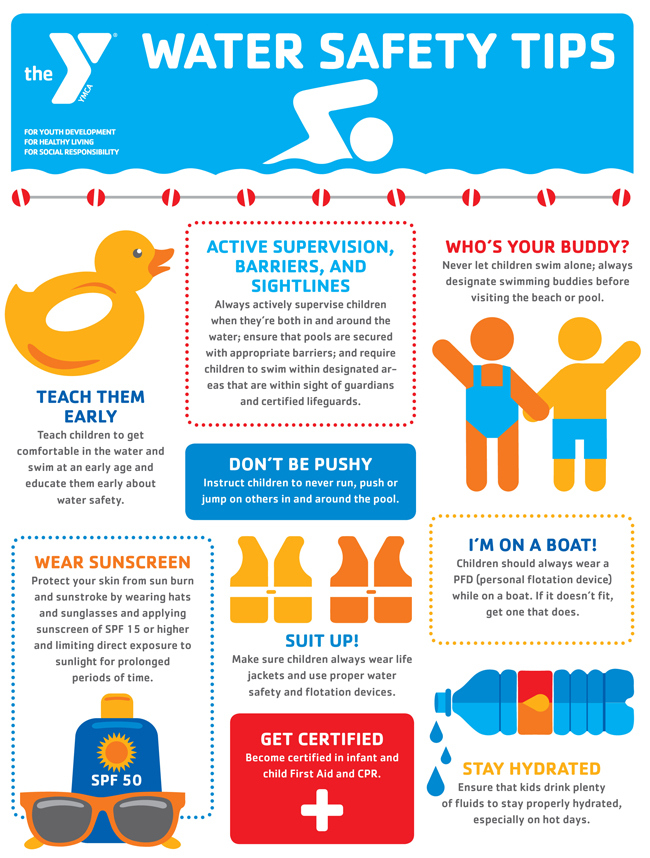 DOWNLOAD:
Keeping Kids Safe Around Water: Water Safety Facts