Becoming a mom changes your priorities – suddenly the needs of your children come first, and your exercise routine moves to the bottom of the ever-growing to-do list. Fortunately, there are ways to ensure your personal fitness needs are met, as well as the needs of your family.
Daily exercise is important to promote good health. The American Heart Association recommends at least 30 minutes of exercise daily, five days per week. In addition to promoting your overall health, a regular workout can provide you with more energy and reduced stress.
Physical activity is also an opportunity to spend time with family. You don't have to choose between being a mom and being healthy, you can be a healthy mom! Here are a few tips for incorporating exercise into your family's daily routine.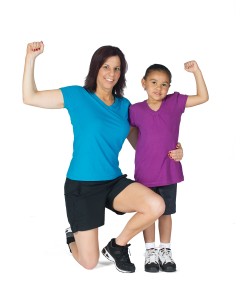 Working out doesn't always mean you have to leave your kids at home. Family bike rides or after-dinner walks are easy ways to gradually establish a family workout routine. Jacksonville offers a number of bike and walking trails for hours of family fun in the great outdoors. If you prefer indoor activities, all Y locations offer a safe and fun environment for the whole family, from teenagers to toddlers.
Enjoy family gymnastics and dance classes at your neighborhood Y for an entertaining and enjoyable experience. Or take advantage of the Y's KidZone—a place where kids can play while you get your workout. The newly renovated Flagler Y also added an area specifically designed for older kids to play basketball, foosball, Xbox and more.
You may be surprised by how much exercise you get by chasing your toddler around on the playground. The increased popularity of personal trackers, such as the Fitbit, has made measuring your activity levels easier than ever. Keep in mind, the suggested 30 minutes of exercise does not have to be completed at one time, but rather, can be split into several segments throughout the day.
To help you squeeze workouts into your family schedule and track your fitness goals, you can now sync your Fitbit to My Y On Demand—the Y's first ever virtual membership that provides you access to workout videos, personalized meal plans, wellness challenges, and group exercise meet-ups.
If you prefer a more traditional method, every Y branch offers personal trainers who can work with you to customize your exercise. From creating a fitness plan for a beginner to more in-depth training for a seasoned veteran, they are dedicated to bringing you one step closer to your goals.
Being a healthy mom is about making exercise work for you and your kids! By incorporating a few or all of the tips above, 2016 can be the year of a healthier, happier family.