Stuffing food in an envelope and mailing it oversseas seems an unorthodox form of protest. Unless you're an 8-year-old who is forced to finish her dinner because "there are starving children in Africa."
While we would have hoped the protesters of our youth might have gone on to start a revolution, sadly, most have likely joined the eight out of 10 American women who suffer from food guilt. And yes, we mean suffer! Food guilt has many flavors, new ones we're learning more about each day. It's about what we eat and what we don't eat, what we feed our families and having the perfect relationship with food.
READ THE ENTIRE ARTICLE FROM EDIBLE NORTHEAST FLORIDA
Authors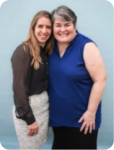 Sara Glenn is the Director of Strategic Development of Healthy Living Innovations: Nutrition & Obesity for the YMCA of Florida's First Coast and leads the Y's nutritional services, including the vertical garden initiative, SEEDifferently.
Kimberly Lewis is the Annual Campaign & Volunteerism Director for the YMCA of Florida's First Coast, is passionate about teaching kids to volunteer, and has worked in the nonprofit sector for more than a decade.