Camaron's Story
McKinley and MoRonica Ravenell moved to Fernandina Beach from Mississippi with their oldest son Camaron 13 years ago. Now living in Florida, they realized how much Camaron loved water – no matter if he was in the pool or just the bathtub – he was always splashing. When he was 5 years old, his parents decided it was time for Camaron to learn how to swim so they took him to the McArthur Family YMCA.
"I never would've imagined that day would change our lives forever. We explained we were looking for private swim lessons. We needed someone who was very understanding with kids," said MoRonica. "We explained to them that Camaron had Speech of Apraxia (speech delay). We needed a swim instructor who would make sure he understood the instructions and would give him visual prompts. When it comes to Camaron, I'm sheltering as McKinley calls it. I call it being a good mom. I wanted them to understand, but they did. They said 'we know the right person for you'."
The Ravenells met Michelle Stein, the McArthur Family YMCA swim team coach. She's also a swim instructor and elementary school teacher. Within a week, Camaron was able to swim to the middle of the pool. "As I watched a tear began to fall. I was so happy he was happy. Just the smile on his face was priceless," MoRonica explained. "Michelle would tell us he was born to swim. She said, 'he will be a great swimmer. Watch and see'."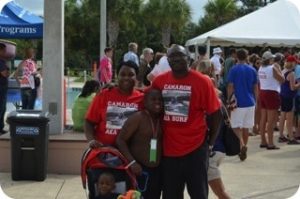 Michelle was right. Camaron continued to improve and eventually earned a spot on the McArthur Sailfish swim team winning 1st, 2nd, 3rd and 4th place ribbons at swim meets. He now competes with the McArthur Flyers and Special Olympics swim teams where he has won five medals including gold.
Camaron is also a champion at something else – talking his mom into taking swim lessons. "Michelle taught me how to swim two years ago. Camaron was there every day cheering me on saying 'mom you can do it' or 'I believe in you'," MoRonica said. "Now Camaron and I swim together and of course, he beats me in races. And I'm so happy to announce that Michelle is now teaching McKinley and his little brother Malik to swim, too and they are doing great."
In addition to reducing their risk of drowning, children who take swim lessons and participate in the Y's Safety Around Water program also become confident in and around the water so like Camaron, they too can feel the sense of accomplishment that comes from learning new skills.
With your help, the Y hopes to provide free swim instruction to 5,000 at-risk children on the First Coast. Please consider the following gift amounts: $60 to sponsor one child, $600 to sponsor 10 children or $1,200 to provide lessons to an entire classroom!
Read: Rotary Club of West Jacksonville's Generous Gift to Safety Around Water
Watch: Safety Around Water Instruction at Brooks Family YMCA