Cheers rang out in the halls of Edward Waters College, as 700 YMCA campers from across the First Coast sat awaiting the start of Thingamajig. First Coast YMCA puts on the Thingamijig convention in hopes of educating youth aged 7-15 about STEM (science, technology, engineering, and mathematics) through a hands on approach.
This year's second annual Thingamajig was sponsored by Vystar and featured activity booths from Florida Public Archaeology Network, JEA, Mathnasium, Johnson Teens, VyStar, Claim It App, Baptist Health, Safe Kids Coalition, Wolfson Children's Hospital, Chick fil A of Mandarin, Firehouse Subs, Sratchwerks, Enviroscapes by AmeriCorp, SeeDifferently, Edward Waters College, Florida IT Network, and UNF School of Computing, Engineering, and Robotics.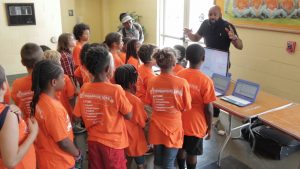 Children spent the day in 16 hands on workshops, and they participated in challenges that allowed them to build marble roller coasters, create their own inventions and even launch off their own bottle rockets.
Although a great opportunity for summer fun, these activities also help to open the doors to strategic thinking, creative expression and great careers. At the Y, young people have numerous opportunities to learn, play and be inspired through STEM. Thingamajig is just one example of how we're opening children's eyes to the wonders of science, and how we've worked to make a difference in the lives of the children of our community this summer.
To view more photos of Thingamajig fun, click here.