Tiger Academy principal Charles McWhite stood looking at a giggling group of huddled 5th graders. "I've watched them grow from four-year-olds to big, tall, middle-schoolers to be", said McWhite.
Tiger Academy is a free public school that is a part of a unique partnership with the Johnson Family YMCA, and a total of 33 fifth grade students will be a part of their June 16th, graduation ceremony.
This graduation, however, will be especially bittersweet because within the graduating class is a group of fifth graders who have been with Tiger Academy since day one. For these students, they will be saying goodbye to staff and classmates that they've known for a big part of their young lives.
After a just few moments of observing these students, it became clear that the fifth-graders weren't just classmates- they shared a much deeper bond.
"They feel like a family," said McWhite, as he expressed his thoughts that it is Tiger Academy's emphasis on personal and social responsibility that was responsible for the fifth graders' success. Additionally, having strong family involvement makes for a unique dynamic for students, and it has helped them to grow and flourish for the length of their time at Tiger.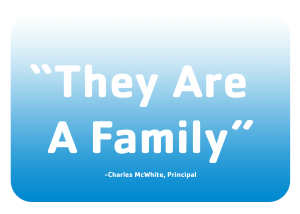 Bearing the motto of "Tigers Today, Leaders Tomorrow", the school focuses on character development, while also holding rigorous academic standards for its students.
McWhte highlighted that it's these standards and leadership values that will continue to help the fifth-graders to be successful in their long-term academic careers. Although the reality of saying goodbye has set in for the graduating fifth grade class, they are happy to be moving forward to achieving their goals. The YMCA of Florida's First Coast extends warm congratulations to this year's graduating class!