UPDATE: Construction is on schedule for the new Winston Family YMCA in Riverside. We are looking forward to a late summer 2016 opening. Below is a live feed showing the progress in real-time.
PARKING
We appreciate your patience during the continued construction of the new Winston Family YMCA. Parking will be impacted over the next several weeks as work is done along Jackson Street. Here's what you can expect:
December 28 – January 6
The parking lot behind the Yates Y will have a temporary access drive to allow for accessibility parking and drop off/pick up only. There will be only one way in and out and arrows will be painted to indicate this.
Parking will be available in the lot across the street from the Yates Y and in an overflow lot at Haskell. A pedestrian walk will be available for crossing over Jackson Street.
To ensure the best experience possible, additional signs and painted arrows will indicate flow of traffic. Also, road flag workers will be on site daily to help direct traffic.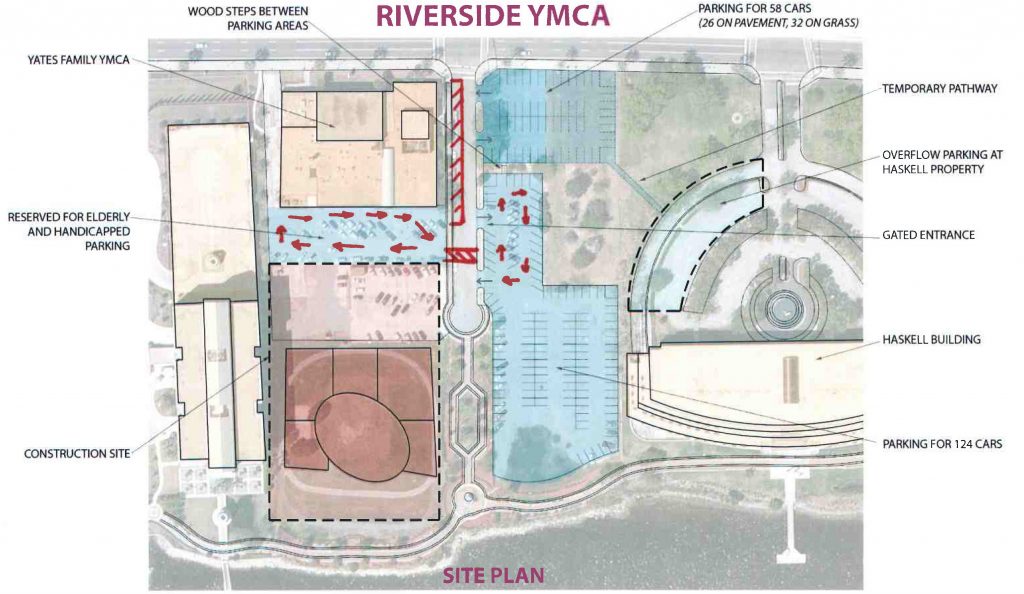 Please follow all posted parking and pedestrian detour signs and other notices regarding construction activities and safety information. As we learn of any parking changes, we will update this information as soon as possible. As always, if you have any questions or concerns, we are happy to help in any way we can.
ABOUT THE NEW WINSTON FAMILY YMCA
The new facility will be 72,000 square feet, about 8,000 square feet bigger than the current Yates Y, which was built in the 1950s. Other amenities in the new Winston Y include:
12,000 square foot fitness area with an indoor running track
Indoor lap pool will be 25 meters long with six lanes
Second, warmer pool will be for children's swim lessons and other classes
Lobby cafe
Two spiritual wellness centers for prayer, meditation or just a quiet place
Luther and Blanche Healthy Living Center in partnership with Florida Blue, Baptist Health and Brooks Rehabilitation
On a fundraising goal of $21M, we only need $2.5M, but we'll need YOU to help us cross the finish line! To help us make a difference, contact Nekita Nesmith at nnesmith@firstcoastymca.org.

[WRGF id=29688]