Give your own heart a treat in February with two simple ways to prevent heart disease: monitoring your blood pressure and reducing sodium intake.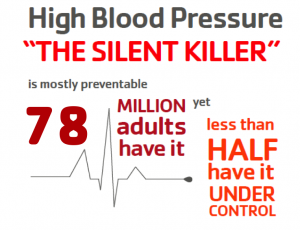 According to the Centers for Disease Control and Prevention (CDC), heart disease is the nation's number one killer. High blood pressure is most prevalent in minority communities, and is often referred to as "The Silent Killer" because there are typically no warning signs or symptoms.
Research shows that the simple process of checking and recording your blood pressure at least twice a month over a four month period, along with regular physical activity, proper nutrition and reducing sodium intake, may lower blood pressure in people with high blood pressure.
The YMCA of Florida's First Coast is now offering a Blood Pressure Self-Monitoring program that helps adults with hypertension lower and manage their blood pressure. The program focuses on regular monitoring of one's blood pressure at home using proper measuring techniques, individualized support and nutrition education in an effort to reduce blood pressure and improve their quality of life. DASH (Dietary Approaches to Stop Hypertension) seminars are also part of the program. These seminars will highlight the importance of practicing healthy eating habits. Participants of the Blood Pressure Self- Monitoring Program to measure their blood pressure with coaching for proper measuring techniques from a trained Healthy Heart Ambassador.
WATCH: News4Jax's Melanie Lawson Reports on YMCA Blood Pressure Self-Monitoring Program
Besides monitoring your blood pressure, reducing sodium intake is a great way to keep your heart healthy. According to the American Heart Association, too much sodium in your system puts an extra burden on your heart and blood vessels. In some people, this may lead to or raise high blood pressure. Everyone, including kids, should reduce their sodium intake to less than 2,300 milligrams of sodium a day (about 1 teaspoon of salt). Having less sodium in your diet may help you lower or avoid high blood pressure.
"There are many factors in keeping your heart healthy and having a handle on your blood pressure is an effective tool in the preventing heart disease," says Lisa Peacock, Director of Healthy Living Innovations: Chronic Disease Prevention, YMCA of Florida's First Coast. "Whether you have high blood pressure or are at risk for heart disease, the Y has many options available that can help."
In addition to programs and services offered in Northeast Florida, the Y offers the following tips from the United States Department of Agriculture (USDA) to help reduce sodium in your diet.
Think fresh: Most of the sodium Americans eat is found in processed foods. Eat highly processed foods less often and in smaller portions—especially cheesy foods, such as pizza; cured meats, such as bacon, sausage, hot dogs, and deli/luncheon meats; and ready-to-eat foods, like canned chili, ravioli and soups. Fresh foods are generally lower in sodium.
Enjoy home-prepared foods: Cook more often at home—where you are in control of what's in your food. Preparing your own foods allows you to limit the amount of salt in them.
Fill up on veggies and fruits—they are naturally low in sodium: Eat plenty of vegetables and fruits—fresh or frozen. Eat a vegetable or fruit at every meal.
Adjust your taste buds: Cut back on salt little by little—and pay attention to the natural tastes of various foods. Your taste for salt will lessen over time. Additionally, keep salt off the kitchen counter and the dinner table and substitute spices, herbs, garlic, vinegar or lemon juice to season foods.
Boost your potassium intake: Choose foods with potassium, which may help to lower your blood pressure. Potassium is found in vegetables and fruits, such as potatoes, beet greens, tomato juice and sauce, sweet potatoes, beans (white, lima, kidney), and bananas. Other sources of potassium include yogurt, clams, halibut, orange juice and milk.