Quincy's Thoughts
My name is Quincy Wimberly and I'm the First Coast YMCA Project Manager of Health Equity, Diversity and Inclusion. Recently, I attended The Boys and Young Men of Color (BYMOC) Convening in Washington D.C with Ja'Barris Briggs, Johnson Family YMCA Senior Program Director of Teen Programs. The BYMOC strategy was created to cultivate success, make investments, and
establish new paths that allow boys and young men of color to reach a higher level of potential. Their goal is to support boys in their communities by creating sustainable economic and social mobility as they reach adulthood.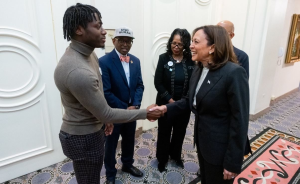 It was transformative to hear about the support system they implement to eliminate systemic barriers for boys and young men of color, most notably in disrupting the school-to-prison pipeline. This strategy is crucial for character development and builds up new leaders within our communities. As a young black man, I obviously connected with this strategy and attending this convening improved my understanding of how it directly affects a young man's outcome.
Ja'Barris and I were quick to realize additional ways to align the BYMOC strategy with the core values of the First Coast YMCA, including by emphasizing youth development through healthy living and social responsibility. It's more than just a commitment; it's a calling deeply rooted in the essence of the YMCA's mission. As Ja'Barris leads our teen programs, he witnesses firsthand the transformative power of investing in the young men in the community. This strategy serves as a beacon of hope, where we can provide support in education, college/career readiness, character development, and a space to address health and well-being. – Quincy Wimberly
Ja'Barris's Thoughts
Working with these teens, I've seen the spark of leadership kindle and grow. Their journeys, often marked by obstacles, have revealed remarkable resilience and determination. But it's not just about the individual; it's about the broader community. When we support these young men, we're investing in the community's future leaders.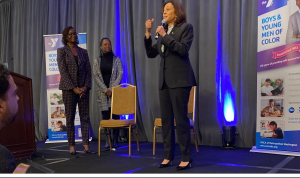 The BYMOC strategy means everything to me and I feel it's necessary given where I came from. I was the product of a single-parent household, which historically put the odds against me. We didn't have any resources like this growing up and it was hard. I persevered, though, and my position with the Y now inspires me to create an avenue for success for today's young men. The biggest goal I want to accomplish is to be there for as long as they need me, through high school, college and beyond.
The BYMOC strategy is more than just a program, it's a lifeline. It's a chance to rewrite the narrative for young men of color, and a commitment to building a brighter future for the Jacksonville community. We're actively pursuing opportunities to be a part of this transformative journey at the Johnson Family YMCA. We can set up times to mentor, offer career readiness sessions, and provide additional preparatory skills to guide men into a new chapter of their lives. – Ja'Barris Briggs