Norma had already lost her mother and brother to type 2 diabetes, so when she got an alarming diagnosis from her doctor, she knew she had to do whatever she could to keep her health from getting worse.
After struggling with weight all her life, Norma Davis learned this past year that she was pre-diabetic. Pre-diabetes is a condition in which individuals have blood glucose levels that are higher than normal, but not high enough to be classified as diabetes. The condition often leads to type 2 diabetes, unless steps are taken to prevent it.
"When the doctor told me I was border diabetic, that was a red flag," Norma said. "It got scary so I said 'NO, I can't do this. I have grand-babies and a husband.' It can cut my life span, it can keep me from being mobile, it can cause me blindness and amputation. I really just put a foot forward and told myself that I was going to get through this."
The First Step
That's when Norma joined the YMCA's Diabetes Prevention Program at the Johnson Family YMCA. The program, which is part of the CDC-led National Diabetes Prevention Program, is geared towards helping those who have been diagnosed with pre-diabetes, or believe they may be at high risk of developing type 2 diabetes. This program is designed to help people adopt and maintain healthy lifestyle changes over the course of one year.
Developing Healthy Habits
Norma says the program has helped her meet her goals and also provided the comfort and support she needs to keep fighting for her health. "Everything is coordinated as far as having support. Even the mentality alone, you get the fortitude to say 'I am going to make it, I am going to do this', once I changed my lifestyle, I felt good- mentally and physically," said Norma.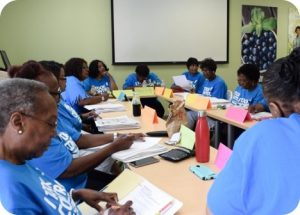 Meeting Goals
The goals of the program are to reduce body weight by 7 percent and increase physical activity to 150 minutes per week. Norma has lost more than 25 pounds since she started the program. She says that the program's group setting helped her maintain her motivation and inspiration thanks to the support it provides.
Staying On Track
"It helps when you can get together and hear about everyone's achievements and the goals they have met, it keeps you motivated to meet your own goals," Norma said. I would have never thought that just a group and positivity would put me in a path that would get me to where I am today."
Norma Davis took control of her pre-diabetes and she says she will keep taking control for the rest of her life. Her goal is to motivate others that are going through similar struggles with the message that "you can choose to live healthy and be healthy."
Lisa Peacock, Director of Healthy Living Innovations: Chronic Disease Prevention, is currently planning fall sessions of the Diabetes Prevention Program. Contact her at 904.265.1810 or lpeacock@fcymca.org for more information.
To qualify for the Diabetes Prevention Program, participants must be 18 or older, overweight/obese (having Body Mass Index greater than 25) and at high risk for developing type 2 diabetes, or have been diagnosed with prediabetes.
Watch Norma's story and learn more about the YMCA's Diabetes Prevention Program.