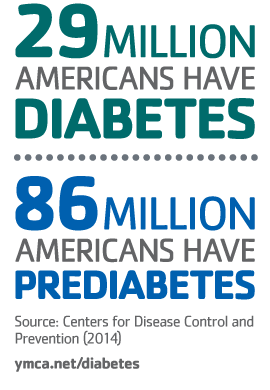 Did you know that 1 in 3 adult Americans is at high risk for diabetes?
That's 86 million people!
The YMCA's Diabetes Prevention Program is part of the CDC-led National Diabetes Prevention Program. This program helps those who have been diagnosed with prediabetes, or believe they may be at high risk of developing type 2 diabetes. This program is designed to help you adopt and maintain healthy lifestyle changes over the course of one year.
---
Program Goals
Reduce body weight by 7%
Increase physical activity to 150 minutes per week
---
Diabetes Prevention Program Class Updates
Please reach out to us to learn more about upcoming sessions.
Contact Us at myhealth@fcymca.org to to learn more.
The Diabetes Prevention Program is not an exercise or nutrition lecture series. Instead, it is a year-long program broken down into 16 one-hour weekly sessions followed by bi-weekly and monthly sessions. Each session is in a classroom setting where a trained lifestyle coach facilitates a small group of participants in learning about healthier eating, physical activity and other behavior changes. After the initial 16 core sessions, participants meet bi-weekly then monthly for added support to help them maintain their progress throughout their first year.
Please contact Paige Hamilton at 904.575.9090 or myhealth@fcymca.org to express your interest and confirm qualifications.
---
Who qualifies for the program?
To qualify for the Diabetes Prevention Program, participants must be 18 or older, overweight/obese (having Body Mass Index greater than 25) and at high risk for developing type 2 diabetes, or have been diagnosed with prediabetes. The program is open to all individuals through the Y regardless of their insurance status. YMCA membership is not required. You may qualify for this program at no additional cost through your insurance provider.
Save
Save
Take the next step and download our Intake Form, available for individuals or health care providers to fill out. Once complete, please send to:
Attn: Paige Hamilton
40 East Adams St., Suite 210 | Jacksonville, FL 32202
You can also send the form by:
Fax: (904)265-1839
Email: myhealth@fcymca.org
---
Health Care Providers:
If you are a health care provider and would like to learn more about the Diabetes Prevention Program, our Advocacy Committee, or how to receive materials for your practice, please email myhealth@fcymca.org for more information.