Sara Glenn
Director of Strategic Development of Healthy Living Innovations: Nutrition & Obesity for the YMCA of Florida's First Coast
If you think heart disease risk factors such as high blood pressure are only present in adults, think again. According to the American Heart Association (AHA), about one in six children ages 8 to17 years has raised blood pressure.
The Dietary Guideline recommends children eat less than 2,300 milligrams of sodium per day. However, studies show that kids in America ages 2 to 19 eat more than 3,100 milligrams of sodium every day. Eating too much sodium can result in high blood pressure in children and teens, and the effect is greater if they're overweight or obese.
As a mom, I am always looking for new ways to encourage my kids to eat healthy and stay active. Even with a career in health and wellness, I still have to stop my daughter from emptying the saltshaker. As a partner in the health of our community, we are dedicated to supporting families in the overall health of their children. In celebration of American Heart Month, below are some steps you can take to help reduce sodium in your family's diet.
Enjoy Home-Prepared Meals
Outsourcing family meals to restaurants may be convenient, but preparing you own foods allows you to control the amount of salt in them. The Nonprofit Center for Science in the Public Interest analyzed a range of processed foods and found, for instance, ready-made roasted carved turkey contains up to 5,410 milligrams of sodium per serving.
When cooking and preparing meals at home, involve your children. Research shows that the more we include our children in food choice and the process of cooking, the more likely they are to eat a healthy diet. From toddlers to teens, there's a job for everyone when it comes to preparing meals.
Adjust Your Kid's Taste Buds
Cut back on salt little by little—and pay attention to the natural tastes of various foods. Your kid's taste for salt will lessen over time. Additionally, keep salt off the kitchen counter and the dinner table and substitute spices, herbs, garlic, vinegar or lemon juice to season foods. Lastly, be aware of the "hidden" sodium in your kid's everyday foods such as pizza, soups and sandwiches.
Model Healthy Eating
Children are great imitators. Just when we think they aren't watching or listening, they surprise us with what they know. We can use this to their benefit when it comes to eating healthy. If we, as parents, model low-sodium intake using alternatives to add flavor to our food, then our children will follow suit.
 Look at the Label
 Packaged foods and beverages can contain high levels of sodium, whether or not they taste salty. That's why it's important to use the Nutrition Facts Label to check the sodium content.
The percent daily value (%DV) tells you how much of a nutrient is in one serving of a food. The %DV is based on 100 percent of the Daily Value for sodium (less than 2,300 milligrams per day). When comparing and choosing foods, pick the ones with a lower %DV of sodium. As a general rule:
5% DV or less of sodium per serving is low
20% DV or more of sodium per serving is high
The First Coast YMCA offers a community of diverse individuals who can help families to meet their health and well-being goals. The new Healthy Living Centers in Mandarin and Ponte Vedra brings medically integrated programs from Baptist Health into the Y and making these programs more accessible to the surrounding community. Whether you want to talk to a doctor about your child's heart condition or need advice for adopting a healthier lifestyle, the Y is here to help!
About the Author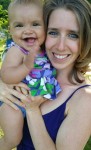 Sara Glenn, MEd., is the Director of Strategic Development of Healthy Living Innovations: Nutrition & Obesity for the YMCA of Florida's First Coast and leads the Y's nutritional services, including the Y's vertical garden initiative, SEEDifferently. Sara lives in Jacksonville with her husband and two-and-a-half year-old daughter, Charley, who she is determined to raise as a healthy foodie!